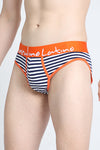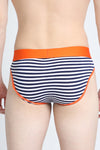 Frequently asked questions
What makes Masculino Latino innerwear different from others?

At Masculino Latino, our innerwear is crafted with precision, prioritizing comfort without compromising on style. Our products are designed to be an extension of your personality, embracing your desires with each carefully chosen fabric and stitch.
How do I choose the right size?

Refer to our Size Guide for detailed instructions on finding the perfect fit. If you have further questions, our customer service team is always ready to assist. Remember, your comfort is our priority.
Are Masculino Latino products ethically sourced?

Yes, ethical sourcing is at the core of our values. We are committed to ensuring that our products are made sustainable with respect for both the environment and the individuals involved in the production process.
Can I return my purchase?

Due to hygiene considerations, we do not offer exchanges for our innerwear products. However, we stand by the quality of our products, and if you're unsatisfied with your purchase, please refer to our Returns & Refunds policy for detailed information on initiating a return. Your satisfaction is our priority, and we're here to ensure you have a positive experience with Masculino Latino.
How do I care for my Masculino Latino innerwear?

To ensure the longevity of your innerwear, follow the care instructions on the product label. Generally, gentle machine wash and avoiding harsh detergents will keep your garments in top condition.
How can I contact customer support?

Our customer support team is here to assist you. Visit our Contact Us page for information on reaching out via email or phone.
How can I stay updated on new product releases and promotions?

To stay in the loop on the latest from Masculino Latino, subscribe to our Instagram, newsletter. Be the first to know about new arrivals, exclusive promotions, and more. Don't miss out—sign up today!
What payment methods do you accept?

At Masculino Latino, we believe in providing you with flexibility and convenience. We accept all major payment methods available in the market. Whether you prefer credit cards, debit cards, digital wallets, or other popular payment options, you can shop with confidence. For more details on specific payment methods, feel free to check our Payment Information page. Your seamless shopping experience is our priority.
Do you offer exclusive promotions or discounts?

Yes, we often run promotions and offer exclusive discounts. Sign up for our newsletter to stay updated on the latest offers.
What steps is Masculino Latino taking towards sustainability?

At Masculino Latino, we are committed to fostering a sustainable and eco-conscious approach. From sourcing materials with environmental considerations to minimizing our carbon footprint in production, sustainability is a key pillar of our ethos. We believe in fashion that not only looks good but also does good for the planet. Explore our sustainability initiatives on our dedicated page to learn more about how we are contributing to a greener future.